Vilma Jää is a musician, singer, composer, fiddler and researcher who works in the fields of folk music, pop music and opera.
Jää's role in Kaija Saariaho's latest opera Innocence has received critical acclaim from all around the world. In the opera she uses old Finno-Ugric vocal techniques she has specialized in in her folk music studies at The Sibelius Academy of the University of the Arts Helsinki. Jää graduated with a Master of Music degree in June 2021.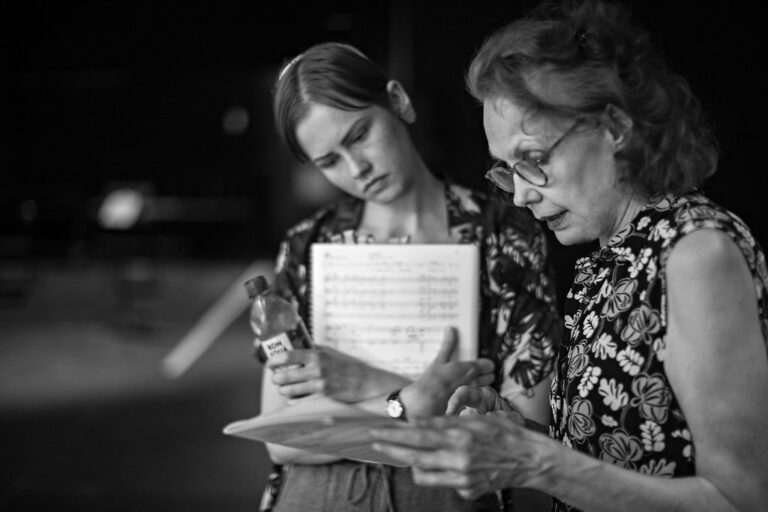 Jää and Saariaho in rehearsals for Innocence, by Jean-Louis Fernandez
Vilma Jää uses those same acclaimed folk singing techniques in her debut single Saatanan saalistaja (Fucking Predator). Shortly after its release in November 2021 the song made it to popular radio stations such as different Yle (Finnish broadcasting company) programmes and Radio Helsinki. Radio host Anne Lainto picked the song as her song of the week and later it was added to the official YleX playlist. As an artist Vilma Jää combines centuries old stories with electronic music. She creates her solo music together with producer-composer Mikko Renfors .
Jää is a versatile composer. In addition to the folk pop she makes as a solo artist she has composed composed heavily tradition-inspired music for SibA Folk Big Band and her a cappella ensemble Jäine. Jää's roots in traditional music as well as her long background in both a cappella and instrumental music have had a great impact on her compositional style. Her compositions for solo piano have been described as cinematic and capturing.
In early 2020 Jää started planning a sheet music publication about Finnish herding calls, and invented a graphic notation system that would convey as much information about the unique style of music as possible. She got this research on Finnish herding call tradition started with the support of Arts Promotion Centre Finland. With a grant from the Niilo Helander Foundation the research will continue in fall 2021.
Besides working as a musician, Jää works as a model and is interested in film photography, fashion design, sewing, painting and everything DIY.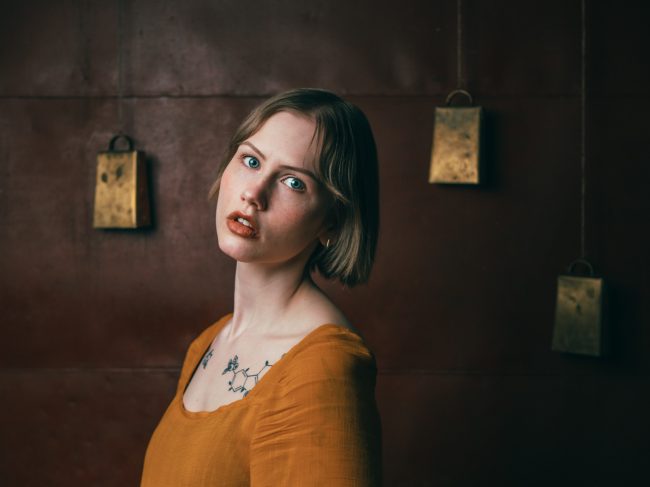 Vilma Jää and big cowbells, by Mikko Malmivaara